Ordering the right bathroom partitions is a big part of any commercial bathroom project. The partitions are a big part of the bathroom design, and the materials and layout should be carefully considered during your planning process. Take the time to do your research before ordering any hardware so you can ensure the best outcome.
Here are a few things to consider:
1. What is the best bathroom layout?
First things first, you want to plan the layout of your bathroom. The layout you choose will be unique to your particular project, but there are a few things every project manager should account for.
Functional Design – It should go without say that your bathroom layout should be functional. Thinking about the usage of the bathroom can be a good starting point. Where will the bathroom be located? How many people are in the building? Is the bathroom in a high traffic area? By starting to answer these questions, you can begin to plan your layout and think about how many stalls you need.
Aesthetics – While the bathroom may not be the star room of the building, it still plays an important role. We've all had the misfortune of being in a bathroom that left a negative impression (to say the least). Make sure your bathroom design is aesthetically pleasing and inline with the design of the building.
2. How many restroom stalls do you need?
Once you've planned a functional and aesthetically pleasing layout, you'll need to choose how many stalls you are going to set up. Planning the stall count can also help you select which layout is best for your design.
Once again, this relates to the functionality of the bathroom. Too few stalls, and your bathroom isn't functional. Too many, and you may be overspending on the project. Do your research to figure out the optimal stall count before ordering your restroom partitions.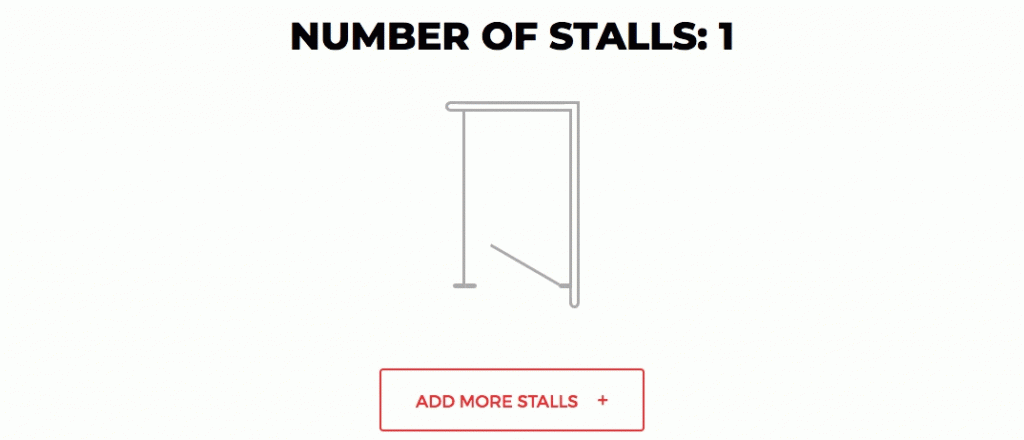 3. What type of materials should you use?
Once you've planned your layout and you know how many stalls you need, it's time to choose the materials for the project. There are three key considerations:
Price – Price is always a factor on any commercial bathroom project. If you have a budget to work with, you'll need to make sure the material you choose falls within your budget. Powder coated steel bathroom partitions tend to be the cheapest material, whereas stainless steel and solid plastic can be a bit more expensive. That said, it's important to remember that cheaper isn't always better. You'll want to choose the material that is the best fit for the project.
Durability – Every bathroom partition material has its own unique benefits. You'll want to think about how durable your partitions need to be. While the majority of bathroom partitions are resistant to every day wear and tear, certain projects require even higher durability. Certain projects may also have special requirements such as the need for moisture resistance in humid environments.
Color and Design – Last but not least, you'll want to focus on the design of the materials you choose. The color and style should match with the design of the rest of your bathroom. Look at the options available in each of the materials. Stainless steel partitions are a favorite for luxurious settings, whereas powder coated steel partitions provide a broader range of colors.

For more information on materials, check out our bathroom partitions hardware guide.
4. What colors do the partitions come in?
Once you've chosen your material, you'll need to choose a color. The color options will be dependent on the materials you choose. For example, steel partitions are limited to a few metallic colors, whereas powder coated steel and solid plastic partitions have a wide range of colors.
5. Can you order the partitions online?
After you've planned your layout and you know which partitions you need, it's time to order. The most convenient way to order partitions is through an online vendor, such as Sanymetal. You can go through the process of laying out your specs online, getting a free quote, and placing an order.
Orders are processed quickly and shipped straight to the location of your choosing.
6. How do you manage the partitions after the shipment arrives?
Your bathroom stall order will be delivered by a freight shipping service. When the shipment arrives, you will need to be available to unload the truck. Most freight shipping companies will make it convenient for you to unload the shipment, but you will still be responsible for the actual unloading.
As you're unloading, make sure to inspect the shipment. You'll want to inspect the stalls for any damage as soon as possible in case you require a replacement. If the products pass your inspection, you're good to go. If you discover any damage, contact the supplier to receive a replacement.
7. Does the toilet partition company offer a warranty?
While you should do a thorough inspection of your partitions when they arrive by freight, you may discover an issue at a later point in time. You should be aware of your provider's warranty program before you place the order. Warranties can give you peace of mind before you invest in essential hardware, and a good warranty may be the deciding factor when it's time to buy.
At Sanymetal, we offer a 1-year warranty on powder coated and stainless steel partitions and a 15-year warranty on solid plastic partitions.