When it comes time to plan your commercial bathroom project, the suppliers you choose to work with can have a major impact on the success of the project. You'll want to make sure you work with reliable suppliers that offer quality products backed by a helpful customer support team.
You can choose to work with local suppliers if you have the right connections, however there are quite a few advantages to working with online suppliers. Before we explain how to order toilet partitions online, let's look at a few of the benefits.
Better Prices on Bathroom Partitions
When you order bathroom partitions online, you can usually get access to better pricing for a few reasons. First, online companies tend to operate using "lean" business models. These online suppliers don't require storefronts and they can reach a larger group of customers through the internet. Lower expenses combined with higher order volume leads to cost savings that can be passed on the you, the customer. Since there are a lot of competing companies online, suppliers tend to offer even more competitive pricing to win customers.
Better Product Variety
Online toilet partition providers like Sanymetal have large warehouses where they can store a wider range of products. Whereas a local company may have a limited product line due to space restrictions and limited local demand, online companies carry a wider range of products to cater to all customers. This ensures that you have more options for your project.
How to Order Restroom Partitions Online
The advantages of ordering restroom partitions online are clear – you have access to a wider range of products at better prices. Of course, some people are still hesitant to order because they feel the process is too complicated and/or slow. Fortunately, it's neither. Ordering toilet partitions online is fast and easy.
You have three easy options for placing your order:
Call the company directly – Call an online supplier, discuss your project, and get a quote.
Email a Layout – If you already have your layout and specs prepared, send in your layout to get a quote on the project.
Get a Quote Online – You can get a quick and accurate quote online by sharing the details of your project using the Sanymetal layout builder. We'll outline the process below.
Step 1: Choose Your Material
The first step is choosing a material for your bathroom partitions. If you're unsure which material to use, check out our material guide.
Here's a quick rundown.
Powder coated steel partitions are the most popular material. These partitions are affordable, light weight, and durable.
Stainless steel partitions are our second most popular material. These partitions are luxurious, moisture-resistant, and highly durable.
Solid plastic partitions are our third most popular material. These partitions are the most durable and suitable for any environment.
Step 2: Choose Your Style
After choosing your material, you will choose the style of your restroom partitions.
You have a handful of options, but overhead braced partitions are the most popular. This style is sturdy, easy to install, and doesn't require floor/ceiling modifications.
We also offer floor mounted, ceiling hung, floor-to-ceiling, and privacy height for projects with unique specifications.
Step 3: Choose Your Colors
Next, you will choose the color of your stalls. You'll be impressed by the range of colors we offer to online customers.
The colors will vary based on the material you select, but we have great options for every project.
Step 4: Choose Your Layout
When you order bathroom partitions online, you have a lot of customization options. We can customize your layout to meet the specifications of your project.
When you go through the online layout building process, you'll see a handful of layouts to choose from. You can mix and match different stall layouts to build your ideal restroom design.
Step 5: Choose How Many Restroom Stalls You Need
After selecting your layout, you will choose how many stalls you need for that particular layout. For example, if you need two corner left stalls, you could easily add them to your layout with the click of a button.
If you need different types of layouts, you can add them through the online builder as well.
Step 6: Specify Your Partition Dimensions
Once you select your stall layouts and quantities, it's time to enter the dimensions. Once again, you can customize these settings to your exact requirements.
For each stall, you can choose:
The depth
The width
The direction the door opens (i.e. left in, right in, left out, right out)
The online layout builder provides a visualization to help ease the process.
Step 7: Choose Your Screens
After finalizing your bathroom stall designs, you will have the option to add matching urinal screens as well. Simply enter your preferred depth and the amount of screens you need and we'll take care of the rest.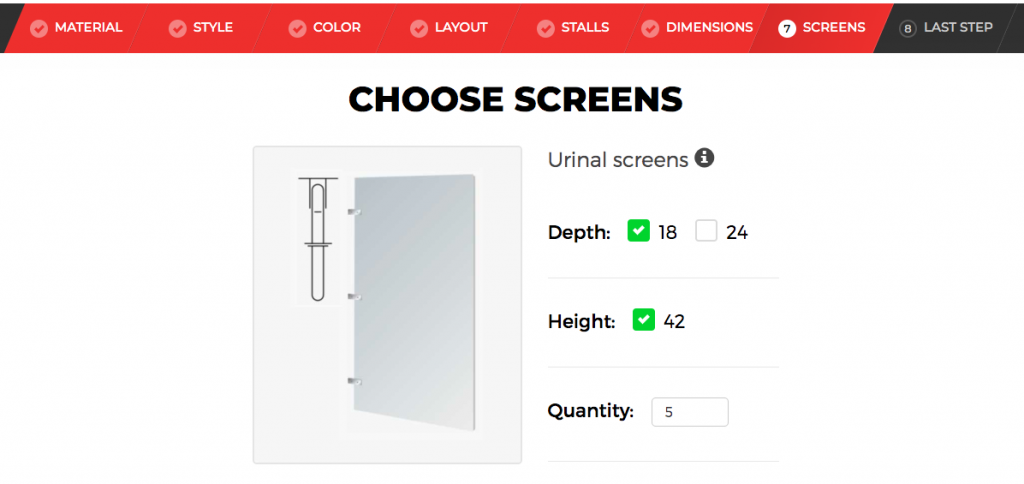 Step 8: Get Your Quote and Order
That's it! You made it through the process. Once you make it to the final step, you will get an instant online quote for your project. If you're happy with this quote, you can begin the process of placing your order
What to Expect When Ordering Bathroom Partitions Online
Ordering your partitions online is fast and easy. We've done everything we can to make sure the process is as painless as possible. If you have any questions, our team is here to help every step of the way.
Here are some of the most common questions we get:
How do I pay for online orders?
You can pay for online orders with any major credit card. If you're a contractor expecting to place multiple orders, you can reach out to discuss a credit arrangement.
When do orders ship out?
We ship all orders within 24 hours. If your order is placed after 2PM EDT or on a weekend, it will be shipped the next business day. We work with multiple freight carriers so we can ship to any region in the United States
How long does shipping take?
Shipments usually arrive within 2-4 days of the initial shipment date.
What should I expect when the shipment arrives?
Be prepared to unload the partitions. The freight carrier will bring the partitions to the back of the truck, but you will be responsible for unloading them.
After unloading the partitions, inspect them to ensure they meet your quality standards. If a partition was damaged during shipping, you can reach out to our team to a arrange a replacement.
Why should I choose Sanymetal over other suppliers?
Great question! Sanymetal has a reputation for being one of the leading toilet partition providers. We've been serving customers since 1916! Here are the main reasons our customers love working with us:
Sanymetal products are durable and long lasting
Sanymetal offers the lowest prices guaranteed. We work directly with the manufacturer, meaning we can offer the most competitive pricing in the industry.
Sanymetal is committed to unbeatable customer support
Sanymetal products are made in America